The Promise, the Comforter and the Spirit of Truth
Posted: 15 October 2016
Categories: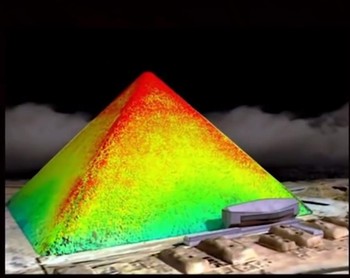 Thermal Scan of the Great Pyramid (posted 3rd November).
The Promise, The Comforter and the Spirit of Truth.
Eph 2:11-22
(11) Wherefore remember, that ye being in time past Gentiles in the flesh, who are called Uncircumcision by that which is called the Circumcision in the flesh made by hands;
(12) That at that time ye were without Christ, being aliens from the commonwealth of Israel, and strangers from the covenants of promise, having no hope, and without God in the world:
(13) But now in Christ Jesus ye who sometimes were far off are made nigh by the blood of Christ.
(14) For he is our peace, who hath made both one, and hath broken down the middle wall of partition between us;
(15) Having abolished in his flesh the enmity, even the law of commandments contained in ordinances; for to make in himself of twain one new man, so making peace;
(16) And that he might reconcile both unto God in one body by the cross, having slain the enmity thereby:
(17) And came and preached peace to you which were afar off, and to them that were nigh.
(18) For through him we both have access by one Spirit unto the Father.
(19) Now therefore ye are no more strangers and foreigners, but fellowcitizens with the saints, and of the household of God;
(20) And are built upon the foundation of the apostles and prophets, Jesus Christ himself being the chief corner stone;
(21) In whom all the building fitly framed together groweth unto an holy temple in the Lord:
(22) In whom ye also are builded together for an habitation of God through the Spirit.
It was in my thoughts to write something else, many ideas and thoughts went through my mind, or soul if you prefer. I just can't get the thoughts flowing like before. Inspirations left me, but through the weeks, these little thoughts kind of gather a momentum of their own, and they completely got together when I heard "the Token" sermon preached in 1963, Sep 1 followed by the message "Desperation" in the evening of the same day. I have heard "The Token" probably more than twenty times before but everytime I hear the sermons, they speak to me in a new light.
Note : I have taught, at least in our congregation, that all the sermons preached or spoken were inspired by the Holy Spirit, so much so that under that annointing, the preacher might not have heard his own words or understood what he had uttered. Most time if not all the time, Brother Branham himself got to spend the same amount of time repeatedely listening to his own sermon again. So I had encouraged our church always to listen to the following tapes of the next two or three sermons to get to the core of the first sermon. You can try it yourself by listening to Stature of the Perfect Man (62-1014M). See whether you understood this mighty sermon. Then continue listening (take a break if you like) to the next two following sermons, "A Guide" (62-1014E) and "Blasphemous Names" (62-1104M).
To me, it was a total revelation of the truth of Stature of the Perfect Man. Without listening to the interpretation of Sister Shepherd's dream in "Blasphemous Names", I would have mistaken those real points he was making. And he elaborated by saying there are two kinds of faith, mental and real (Holy Ghost inspired_. Of course there is much more than just what I am saying above, but I urge you to listen to them yourselves. It will certainly be a blessing to you.
Back to the subject of the Token, preached in the morning, so here in the evening sermon Desperation, he explained the morning's sermon, "The Token". Here is what he said:-
63-0901E DESPERATIONS_ JEFFERSONVILLE.IN V-4 N-1 SUNDAY_
9 † Now you people in the tapes in there, I would that--that... I think now I...
This morning, the message this morning was, to me, the highlights Message of my entire ministry; this morning, see, a highlight Message of my entire ministry. Someday I'll tell you how it come about. And I know that everything has worked for months and months and months, up to that one Message, moving up to come to that place. That was the capping-off time of it, you see. And it's a...
10 † Now I'm sure, or hope, that you got what the Token meant. See? The Token is the sign that the Blood has been applied. That, the price that's been asked, required of God, Jesus paid that price by shedding His Own Blood. He did that. Then, from His life came the Holy Spirit. And when the Blood is applied to you, the Holy Spirit is a Token that your price is paid; God has received you, and that's the Token. Remember, that is the Token. Now, there is many people who doesn't, they--they don't know what that Token is, see. And you have to make it like that nobody knows it, see, so that all of them will get it.
You see that I posted the scriptures above without even thinking that the quotes from "Desperations" actually dovetailed with it, that we who were once alienated from the commonwealth of Israel, and were strangers FROM the covenants of promise, having no hope, and without God in the world: But now IN Christ Jesus are made nigh by the BLOOD OF CHRIST.
So that He abolished the enmity, even the law of commandments contained in ordinances; for to make in Himself of twain one new man, so making peace.
For what purpose? That He might reconcile both unto God in one body by the Cross, having slained the enmity thereby, and now we both have access by one Spirit unto the Father! Praise be to the Almighty God. We are therefore no more strangers and foreigners, but fellow citizens, of the household (commonwealth) of God. How are we the household? Because we are built upon the foundations of the apostles and prophets...not theologians, because the theologians rejected the chief corner stone and they are the ones who had put Christ outside so much so that He has to knock to ask you to open to Him.
So this building of the Church body is fitly framed in bonds of Love, unto a holy temple, made without hands. Because the last verse of Ephesian 2 which is verse 22 says builded or built together for AN HABITATION OF GOD through the Spirit.
Now you see why the Token has to be applied, not just the chemistry of the Blood of the slained Lamb, but that life that was in that Sacrifice could come back on the repentent sinner to make him or her a new man so making peace. Did Jesus not told the disciples that by this shall all men know you are my disciples if you have love one for another? Paul in the letters to the Romans, put this core message in striking directness. He said if any man have not the Spirit of Christ, he is none of His.
Rom 8:9-17
(9) But ye are not in the flesh, but in the Spirit, if so be that the Spirit of God dwell in you. Now if any man have not the Spirit of Christ, he is none of his.
(10) And if Christ be in you, the body is dead because of sin; but the Spirit is life because of righteousness.
(11) But if the Spirit of him that raised up Jesus from the dead dwell in you, he that raised up Christ from the dead shall also quicken your mortal bodies by his Spirit that dwelleth in you.
(12) Therefore, brethren, we are debtors, not to the flesh, to live after the flesh.
(13) For if ye live after the flesh, ye shall die: but if ye through the Spirit do mortify the deeds of the body, ye shall live.
(14) For as many as are led by the Spirit of God, they are the sons of God.
(15) For ye have not received the spirit of bondage again to fear; but ye have received the Spirit of adoption, whereby we cry, Abba, Father.
(16) The Spirit itself beareth witness with our spirit, that we are the children of God:
(17) And if children, then heirs; heirs of God, and joint-heirs with Christ; if so be that we suffer with him, that we may be also glorified together.
The same doctrine is presented to us by Peter and that is why the gospel fo Paul and Peter is the same gospel, by the same Authour, the Holy Spirit. Peter wrote:-
1Pe 2:2-10
(2) As newborn babes, desire the sincere milk of the word, that ye may grow thereby:
(3) If so be ye have tasted that the Lord is gracious.
(4) To whom coming, as unto a living stone, disallowed indeed of men, but chosen of God, and precious,
(5) Ye also, as lively stones, are built up a spiritual house, an holy priesthood, to offer up spiritual sacrifices, acceptable to God by Jesus Christ.
(6) Wherefore also it is contained in the scripture, Behold, I lay in Sion a chief corner stone, elect, precious: and he that believeth on him shall not be confounded.
(7) Unto you therefore which believe he is precious: but unto them which be disobedient, the stone which the builders disallowed, the same is made the head of the corner,
(8) And a stone of stumbling, and a rock of offence, even to them which stumble at the word, being disobedient: whereunto also they were appointed.
(9) But ye are a chosen generation, a royal priesthood, an holy nation, a peculiar people; that ye should shew forth the praises of him who hath called you out of darkness into his marvellous light:
(10) Which in time past were not a people, but are now the people of God: which had not obtained mercy, but now have obtained mercy.
In the gospel of John, if we read through John 14 to 16, you would have heard the same Words regarding how the Lord will be with them, yea even IN them unto the end of the world.
John 14:23
(23) Jesus answered and said unto him, If a man love me, he will keep my words: and my Father will love him, and we will come unto him, and make our abode with him.
John 14:26-29
(26) But the Comforter, which is the Holy Ghost, whom the Father will send in my name, he shall teach you all things, and bring all things to your remembrance, whatsoever I have said unto you.
(27) Peace I leave with you, my peace I give unto you: not as the world giveth, give I unto you. Let not your heart be troubled, neither let it be afraid.
(28) Ye have heard how I said unto you, I go away, and come again unto you. If ye loved me, ye would rejoice, because I said, I go unto the Father: for my Father is greater than I.
(29) And now I have told you before it come to pass, that, when it is come to pass, ye might believe.
John 15:4-7
(4) Abide in me, and I in you. As the branch cannot bear fruit of itself, except it abide in the vine; no more can ye, except ye abide in me.
(5) I am the vine, ye are the branches: He that abideth in me, and I in him, the same bringeth forth much fruit: for without me ye can do nothing.
(6) If a man abide not in me, he is cast forth as a branch, and is withered; and men gather them, and cast them into the fire, and they are burned.
(7) If ye abide in me, and my words abide in you, ye shall ask what ye will, and it shall be done unto you.
John 15:26-27
(26) But when the Comforter is come, whom I will send unto you from the Father, even the Spirit of truth, which proceedeth from the Father, he shall testify of me:
(27) And ye also shall bear witness, because ye have been with me from the beginning.
John 16:7
(7) Nevertheless I tell you the truth; It is expedient for you that I go away: for if I go not away, the Comforter will not come unto you; but if I depart, I will send him unto you.
John 16:13-16
(13) Howbeit when he, the Spirit of truth, is come, he will guide you into all truth: for he shall not speak of himself; but whatsoever he shall hear, that shall he speak: and he will shew you things to come.
(14) He shall glorify me: for he shall receive of mine, and shall shew it unto you.
(15) All things that the Father hath are mine: therefore said I, that he shall take of mine, and shall shew it unto you.
(16) A little while, and ye shall not see me: and again, a little while, and ye shall see me, because I go to the Father