Thanksgiving, Remembering the Lord
Posted: 05 December 2016
Categories: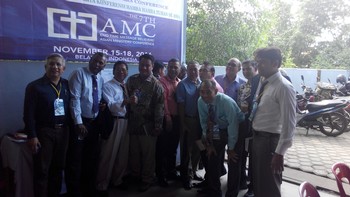 The identification of a Christian (disciple) and thanksgiving.

Much have been said about getting the wisdom and knowledge of God, that God is the God of Salvation, a merciful and just God who gave His only begotten Son, our Lord Jesus Christ, who thread the winepress of the wrath of God so that He can free us from our sin.

All that is required for us is to believe ! Strange isn't it that there are many who scoffed at this offer of pardon and think that there are probably strings attached and that the gospel is not so simple? Or some just do not believe that there is a Creator of the heavens and earth, and that simply the universe comes by itself, These men try to explain by their pseudo scientific theories not realising that in Eternity, there is no time. Time has boundaries and limits, Eternity does not. Men with today's knowledge will not be able to comprehend that with God, their scientific limitation cannot explain,
the water turning into wine,
the parting of the Red Sea,
nature obeying the commandment of a man,
an iron axe head that swims,
Peter, a man who lived by the boat as a fisherman, stepped into the water when he saw Jesus walking towards them on the open seas, walking on water! And when he doubted fearing of the waves around him, he sank slowly, not with a quick plomb! A miracle by itself.
A dead man coming back to life after contact with Elisha's bones
the multiplying of cooked fish and bread to feed first the four thousand and again the five thousand
and many more.....

Are you a believer to believe all the above happened according to the Word of God. If yes, how did you believe? Was it by scientific explanation or because you know deep inside of you that God is true!

Then why are we fussing about this and that? Staying away from fellowship, coming up with false accusations, and substituting men's doctrine for the Word of God, disbelieving and disputing that the Baptism of the Holy Spirit is for the believer. That Jesus promise the Comforter who will abide with even in us. For He said, the kingdom of God is within you.
Joh 14:26
(26) But the Comforter, which is the Holy Ghost, whom the Father will send in my name, he shall teach you all things, and bring all things to your remembrance, whatsoever I have said unto you.

Luk 17:21
(21) Neither shall they say, Lo here! or, lo there! for, behold, the kingdom of God is within you.

In Exodus, we have a record of God speaking to men, lips to ears. When He spoke, God thundered in such an awesome voice, that they feared with trembling, that the Hebrew children could not stand when God was speaking lips to ears to them. They were in awe, but feared for it was the Voice of a Just and Righteous God, and no sin can stand before him. They knew they could die if even there is a speck of sin in their lives. And they were told to keep their distance, away from the mountain. "No", they pleaded. Don't let God talk to us. Instead, let Him speak to Moses and whatever Moses tells us, we will hear". Did you notice what they vowed? That they will hear what Moses tells them. Did they? No, they all perished in the wilderness because of their unbelief. They did not walk by faith, but by their reasoning and temptations of the flesh. They did not trust that God could rain Manna continually as promised till they eat of the fruit of the land. Yet, when they wandered for the next 38 years in the wilderness as they could not press into Canaan because of the 10 spies and their report of the giants occupying the land at that time. They forgot how Moses had led them to victory along the way, taking out Sihon the king of Heshbon and Og the king of Bashan. Was not Og of the giants too? The day, that Joshua stepped into the promised land, the Manna stopped. They ate of the fruit of the land from that day till today.

Well, we can look back and said oh, why did they not believe? How about us, today ? Are we believers? We are in our own exodus from man made systems, from men's ideas, from pseudo sciences and from the Antichrist. We are marching towards our own promised land, the quickening of the Spirit into the kingdom of God's the place where Jesus promised He would prepare for us. And He fed us with the stored spiritual food. Why should we allow anyone to rob us of this food. This is the completion of the interpretation of the full counsel of God to His church. Can we simply believe that this, His promise will happen according to the Word of God, or are we looking for a returned ministry, for another messenger or for another big meeting instead of resting on the promise of God. There is no other way around this. The only difference between the Wise and Foolish virgins is that the wise have oil in their lamps. And the prophet told us that it is the Holy Ghost. Paul said the same thing. And we are reminded of these words from him:-
Rom 8:9-17
(9) But ye are not in the flesh, but in the Spirit, if so be that the Spirit of God dwell in you. Now if any man have not the Spirit of Christ, he is none of his.
(10) And if Christ be in you, the body is dead because of sin; but the Spirit is life because of righteousness.
(11) But if the Spirit of him that raised up Jesus from the dead dwell in you, he that raised up Christ from the dead shall also quicken your mortal bodies by his Spirit that dwelleth in you.
(12) Therefore, brethren, we are debtors, not to the flesh, to live after the flesh.
(13) For if ye live after the flesh, ye shall die: but if ye through the Spirit do mortify the deeds of the body, ye shall live.
(14) For as many as are led by the Spirit of God, they are the sons of God.
(15) For ye have not received the spirit of bondage again to fear; but ye have received the Spirit of adoption, whereby we cry, Abba, Father.
(16) The Spirit itself beareth witness with our spirit, that we are the children of God:
(17) And if children, then heirs; heirs of God, and joint-heirs with Christ; if so be that we suffer with him, that we may be also glorified together.

May I highlight to you what is Paul saying. He said "if any man have not the Spirit of Christ, he is none of His". He also said, "if the Spirit of him that raised up Jesus from the dead dwell in you, he that raised up Christ from the dead SHALL QUICKEN your mortal bodies by His Spirit that dwelleth in you. Is the Spirit dwelling in us now? If not, we know the consequences. But what about the sounding of the Thunders, that will give us that rapturing faith? Well, what about the Thunders? Are the the thunders the revelation contained in the opening of the Seven Seals? Yet the mystery of these thunders which sounded will also be revealed to us to make that body change. Are the thunders going to speak against what Paul wrote, because Paul said "though we, or an angel from heaven...."
Gal 1:6-9
(6) I marvel that ye are so soon removed from him that called you into the grace of Christ unto another gospel:
(7) Which is not another; but there be some that trouble you, and would pervert the gospel of Christ.
(8) But though we, or an angel from heaven, preach any other gospel unto you than that which we have preached unto you, let him be accursed.
(9) As we said before, so say I now again, If any man preach any other gospel unto you than that ye have received, let him be accursed.
Or
2Co 11:4-7
(4) For if he that cometh preacheth another Jesus, whom we have not preached, or if ye receive another spirit, which ye have not received, or another gospel, which ye have not accepted, ye might well bear with him.
(5) For I suppose I was not a whit behind the very chiefest apostles.
(6) But though I be rude in speech, yet not in knowledge; but we have been throughly made manifest among you in all things.
(7) Have I committed an offence in abasing myself that ye might be exalted, because I have preached to you the gospel of God freely?

Are we preaching another gospel ? If not, and we are preaching what Paul preached, where are the believers in Paul? When Brother Branham was caught behind the curtain of time, his converts told him the same thing and he said I preached what Paul preached, and the converts said, "we are resting on that". You realised we can';t hear the voice of Paul, but have his letters. That was the beginning of the Gentile age. Now we are at the end when the fullness of the Gentiles is coming into force. And God allowed us to hear His last messenger's voice through magnetic tapes and even in digital format. Thousands of sermons packed into a microSD card. Now you can hear these sermons in your mobile phone. Make no mistake, this gospel is going to be heard even unto the ends of the world.

So whatever the thunders are going to be, of which there is no prophet to tell us, because the thunders will sound when they needed to be sounded at that moment when the last elect has been called, then the process of the dead rising first and we which are alive shall be caught up together with them to meet the Lord IN THE AIR shall happen. There shall be no delay because before the fire fall, Lot and his group were called out and we know Lot types the Jewish remnant, the 144,000. Because Abraham types the believers and Abraham was in the presence of the King of Glory, Melchizedek.

Look at the conditions of Sodom and Gomorrha. When the two heavenly beings who are male came to Lot into his house, the men of the city, the sodomites lusted after them. And what did Paul said about this :-
Rom 1:26-28
(26) For this cause God gave them up unto vile affections: for even their women did change the natural use into that which is against nature:
(27) And likewise also the men, leaving the natural use of the woman, burned in their lust one toward another; men with men working that which is unseemly, and receiving in themselves that recompence of their error which was meet.
(28) And even as they did not like to retain God in their knowledge, God gave them over to a reprobate mind, to do those things which are not convenient;

See, Vile affections, going against nature, men lust one toward another, men with men, working that which is unseemly and receiving in themselves that recompense of their error which was meet.....

They became reprobate and refuse to hear the Word of God anymore. And they begin to twist the Word of God trying to justify themselves, trying to be their own teachers but indeed they are fooling themselves to damnation. They say, "oh, the bible is our absolute". Well it is a good declaration and is true. Of course the bible is the absolute. But then, they became their own interpreter of that absolute, to suit and justify their own lust and desires. They rather fellowship with unbelievers, men who say, we don't speak of the bible in their worldly gathering nor about God. Keep it to yourself, they told me. Don't worry, I too will not keep company with those who disbelieve. I rather be sitting in heavenly places IN CHRIST JESUS.

We are warned not to add or take away from the Word of God. But they found themselves teachers who taught them what they want to hear to appease their soul. Oh, don't worry, they said, God is a good God, no evil shall befall you. That was what Saul, the king, thought too not knowing that he had gotten jealous of David, the Lord's chosen. He wanted to kill David to prevent him from taking his throne. But Samuel the prophet already anointed David to be king according to the Word of God. How can the Word fail. No, it was Saul who failed and he died in the battle against the Philistines, he and his sons. And the dogs licked his blood, when they washed his chariot, as prophesied by Elijah. Who was God's voice as He was with Moses. How can the words of Elijah not be fulfilled when he was the mouthpiece of God. Same thing today. God's mouthpiece has spoken and the Word will accomplish what it was sent for.

So when we look back as the year is coming to a close, soon 2016 maybe over and maybe not, as no man knoweth the day or the hour of His Coming, we have much to be thankful for. Thanksgiving is the only protestant holiday in the United States to give thanks unto the Lord for caring for us through the year, for providing us with food, clothing and shelter and a heavenly family appointed to be with Christ eternally. How grateful and thankful are we, when we consider that many younger than us are dying in war zones, through tribal wars, famine, disasters, sick in hospitals and even in traffic accidents. That is why we end our service with "Take the Name of Jesus with you". We take His name with us in our everyday lives, even in our sleep as He speaks to us in our dreams so that we know how we should conduct ourselves and be epistles written for all men to read. You see why God speaks to others in dreams, such as Pharoah, King of Gerar, Nebuchadnezzar, Joseph, the husband of Mary, even the wife of Pontius PIlate? Because they are not prophets. God speaks to His prophets in direct presence.

We must call on Him while He is near....Seek ye the Lord while he may be found.

Isa 55:6
(6) Seek ye the LORD while he may be found, call ye upon him while he is near:

Psa 145:18-21
(18) The LORD is nigh unto all them that call upon him, to all that call upon him in truth.
(19) He will fulfil the desire of them that fear him: he also will hear their cry, and will save them.
(20) The LORD preserveth all them that love him: but all the wicked will he destroy.
(21) My mouth shall speak the praise of the LORD: and let all flesh bless his holy name for ever and ever.

Yes, let us continually, without fail, to speak the praise of the Lord with our mouth. Praise ye the Lord. Blessed be His holy name. Indeed, we share with Sister Lynda, how she remembered this song and to give thanks unto the Lord.

Thank You Lord for Your Blessings On Me

As the world looks upon me,
As I struggle along,
And they say I have nothing,
But they are so wrong,
In my heart I'm rejoicing,
How I wish they could see,
Thank You Lord for Your blessings on me!

CHORUS:
There's a roof up above me,
And I've a good place to sleep,
There's food on my table,
And shoes on my feet,
You gave me Your Love Lord,
And a fine family,
Thank You Lord for Your blessings on me!

I know I'm not wealthy,
And these clothes are not new,
And I don't have much money,
But Lord I have You!
And to me that's all that matters,
Though the world may not see,
Thank You Lord for Your blessings on me!

Psalm 147:7-11
(7) Sing unto the LORD with thanksgiving; sing praise upon the harp unto our God:
(8) Who covereth the heaven with clouds, who prepareth rain for the earth, who maketh grass to grow upon the mountains.
(9) He giveth to the beast his food, and to the young ravens which cry.
(10) He delighteth not in the strength of the horse: he taketh not pleasure in the legs of a man.
(11) The LORD taketh pleasure in them that fear him, in those that hope in his mercy.

Psalm 145:14-16
(14) The LORD upholdeth all that fall, and raiseth up all those that be bowed down.
(15) The eyes of all wait upon thee; and thou givest them their meat in due season.
(16) Thou openest thine hand, and satisfiest the desire of every living thing.



Categories