Strait is the Gate and Narrow is the way....
Posted: 22 June 2014
Categories:
It is so sad th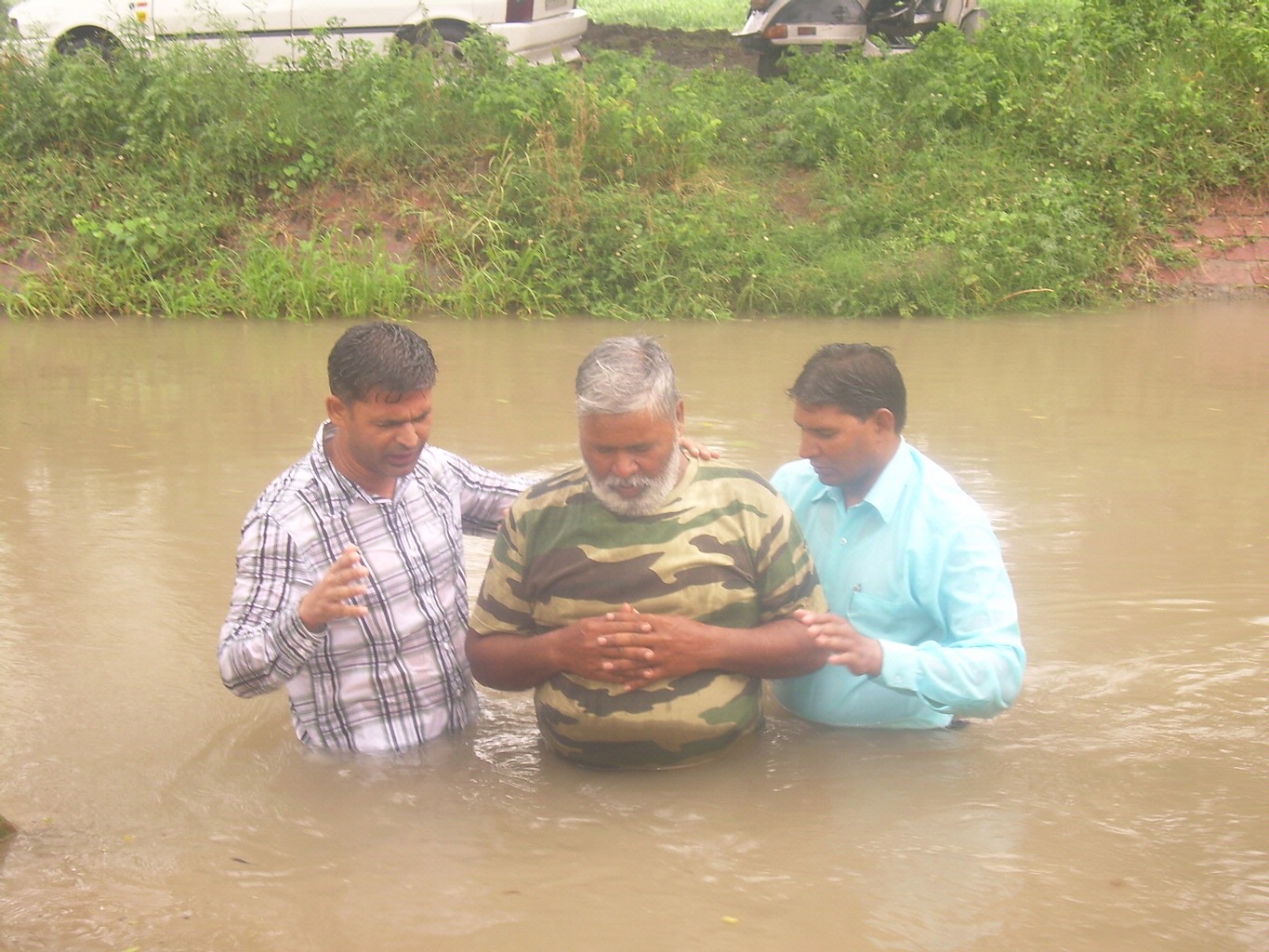 at people are now making claims they are leaving this message because they thought that they have found some discrepancies in the sermons. This walk with the Lord is narrow. You can't make a back turn. Only strait (water) is the gate, the water baptism in Jesus Name.

Mat 7:14 Because strait is the gate, and narrow is the way, which leadeth unto life, and few there be that find it.

How can these people turn back ? It can't be done and the only reason of it all is that they had never even enter into the gate and the narrow way. Noticed that the word "strait" rather than "straight" was used in the text. The gate is the door, and the only way is to enter by the water way. Strait as in "Straits of Malacca".

Heb 6:8-10
(8) But that which beareth thorns and briers is rejected, and is nigh unto cursing; whose end is to be burned.
(9) But, beloved, we are persuaded better things of you, and things that accompany salvation, though we thus speak.
(10) For God is not unrighteous to forget your work and labour of love, which ye have shewed toward his name, in that ye have ministered to the saints, and do minister.
Let me recount my own walk with God. When I was seeking the baptism of the Holy Spirit in 1972, I was praying that God would direct me in such a way that His promise of the Holy Ghost was available to all believers. His instructions and Word to His disciples were so clear. "Tarry ye in Jerusalem until you be endued with power from on high", and then you can be My witnesses.
The book of Acts in Chapters 1 and 2 clearly instruct us to follow through with this promise and it needed no other interpretation. Just wait UNTIL...
God answered my personal prayers. Indeed the Holy Ghost came and indwelt me. Then, we were gathering in a small group in one of the brother's house (see my testimony). That brother was brother Fong and I was with Bro Richard Gan because he had the library full of the message books, at that time called the Spoken Word books published by The Spoken Word Publication under Brother Roy Borders whom we met in Singapore.
God led me to the books "A Man Sent From God" and "The Seven Church Ages" . What joy and pleasure I had reading and digesting those books. From the Seven Church Age book, I learned that what was necessary for me was to be baptized in the Name of the Lord Jesus Christ (which was the first thing a new believer needed to do) and ye shal receive the Gift of the Holy Ghost and I did. Praise God. That has kept me all these years even though many a time I failed Him in so many ways but that experience never left me. It was the down payment, the token for my Redemption according to Ephesian 1:13 and 4:30.
Eph 1:13-14
(13) In whom ye also trusted, after that ye heard the word of truth, the gospel of your salvation: in whom also after that ye believed, ye were sealed with that holy Spirit of promise,
(14) Which is the earnest of our inheritance until the redemption of the purchased possession, unto the praise of his glory.

Eph 4:30-32
(30) And grieve not the holy Spirit of God, whereby ye are sealed unto the day of redemption.
(31) Let all bitterness, and wrath, and anger, and clamour, and evil speaking, be put away from you, with all malice:
(32) And be ye kind one to another, tenderhearted, forgiving one another, even as God for Christ's sake hath forgiven you.
My most difficult trial was in 2011 when I was hospitalized for near death poor cardio performance due to an undetected insipid hypothyroid condition. There was water retention in my lungs which inpeaded the ventricular ejection down to a dying man's ratio of 17%. You are going to die the doctor told me. I was ready to go home if that was the time to go as I was not afraid. The only thing that held me back of course was that those that I loved much in this world are yet to come to this experience. This website was a result of this drive to become a true witness for the walk with Jesus Christ. The prophet told us it is an individual affair.
For those who turned back into the rudiments of the world, I have only this to say to them. They are yet to follow the Lord's instruction to the disciples to tarry (means wait) till they are endued with power from on high. What more can I say to them? If they cannot get the result of this ministry, what more can we do for them? You see their constant evil drive to try to justify their own actions by claiming they are true to the bible, but ignored this very basic first step.

How can they not understand that it was not a man who was preaching the sermon Stature of a Perfect Man. What more do you think the prophet need to tell people how to step into this wonderful promise. Two sermons after this, in the tape Blasphemous Names, he unfolded the dream of Sister Shepherd. The dream was given to her more than a year ago when she was wondering whether she had the Holy Ghost or not....See how God prepare both ends. The believer and the prophet.
I have posted this interpretation of the dream in past articles. If you can't find it, I will post it again in my next article. Part of it here:-
62-1104M BLASPHEMOUS.NAMES_ JEFFERSONVILLE.IN V-3 N-21 SUNDAY_
« 96 † Now I'm backgrounding this, so that you will see when the sister's dream is being told.
97 Now, these things here absolutely must be in the Christian before the Holy Ghost ever seals them, before this comes down on top and makes a complete unit.
98 Now, our sister's dream now. She was worried whether she had the Holy Ghost or not, when she laid down across the duofold where her husband was reading a paper. And she has got little ones, as I have, and they're always making a noise and things. And so, in this, she fell asleep for approximately ten minutes, or fifteen. And she dreamed. And she never could understand it, or get it all together, from a year ago, almost, until this Message was taught. Then, while I was teaching It, it all come back to her. And she dreamed that she was praying.
99 She was walking the floor, first, before she dreamed, and wringing her hands, and thinking, "Lord, have I got the Holy Ghost? Can You prove to me. Some says, 'Because that--that I shouted.' Or some said, 'Because I spoke with tongues.' And we believe in all that. But have I really got It?"
Look at the world, look at the church, look at the Sodom condition. Who else preached and warned about the oncoming storm of the judgment of God? The sign of the Messiah was demonstrated LIVE. Tape after tapes and yet people use their mind to analyze them rather than believe them? When the present Pope canonized the two previous popes as saints, one of the requirements was that they have to prove that there were at least two miracles performed by them before they can be certified saints. (To the Roman Catholic church, a saint is a dead one), but to us, a Saint is a live one as Paul and Peter directed their epistles to the saints that were living.
Psa 16:3 But to the saints that are in the earth, and to the excellent, in whom is all my delight.
Eph 1:1 Paul, an apostle of Jesus Christ by the will of God, to the saints which are at Ephesus, and to the faithful in Christ Jesus:
Col 1:2 To the saints and faithful brethren in Christ which are at Colosse: Grace be unto you, and peace, from God our Father and the Lord Jesus Christ.
Col 1:2 To the saints and faithful brethren in Christ which are at Colosse: Grace be unto you, and peace, from God our Father and the Lord Jesus Christ.
1Pe 2:9 But ye are a chosen generation, a royal priesthood, an holy nation, a peculiar people; that ye should shew forth the praises of him who hath called you out of darkness into his marvellous light:

How can these things be, when in one service alone, there are more than 10 miracles if not hundreds of people walking out of their wheelchairs, of diseases being healed and of secrets of the hearts being revealed and dreams interpreted? Is anything too hard for God? Are we not a part of Christ today ? There has never been a time of church age, ask any student of the bible was there any worldwide ministry sent to the world with the name ending H A M ? Abraham was seven letters. Graham was only six so who was he talking about? BRANHAM of course. Watch the ministry and compare with what Jesus said. Don't you realise that it is God coming down in His people making Himself known in this great hour? Are we that blind to it? Surely we are not. Nathanael, the woman at the well, the harlot and Blind Bartimaeus saw it and believed it.

Did we not read in the bible when Jesus spoke the Word to the seventy which were given powers to heal the sick and preach the gospel, that they took His Word as hard sayings and left Him. Even His own disciples scattered when He was taken by the forces of the Sanhedrin Council and handed over to the Roman governor, Pontius Pilate for a mocked trial and execution. What do you think the disciples were thinking at that time ? Where was His power, why was He captured so easily and why He did not call the angels to come and fight for Him? Why was He so helpless in the end? Maybe they wondered whether they could have been mistaken in witnessing that He was the Messiah. So yes, many doubted Him and left Him to die alone. It is always down to you as the individual as it was when two thieves who were crucified with Him :
Luk 23:39-40
(39) And one of the malefactors which were hanged railed on him, saying, If thou be Christ, save thyself and us.
(40) But the other answering rebuked him, saying, Dost not thou fear God, seeing thou art in the same condemnation?
Which malefactor you rather be? Are we not like them, for all have sin and come short of the glory of God. What was the disciples expecting when they saw Jesus hanging on the Cross mutiliated and naked? Listen to the confession of two of them (Clepoas and his friend) making their way home..yes, backtracking because they were dissapointed.
Luk 24:15-21
(15) And it came to pass, that, while they communed together and reasoned, Jesus himself drew near, and went with them.
(16) But their eyes were holden that they should not know him.
(17) And he said unto them, What manner of communications are these that ye have one to another, as ye walk, and are sad?
(18) And the one of them, whose name was Cleopas, answering said unto him, Art thou only a stranger in Jerusalem, and hast not known the things which are come to pass there in these days?
(19) And he said unto them, What things? And they said unto him, Concerning Jesus of Nazareth, which was a prophet mighty in deed and word before God and all the people:
(20) And how the chief priests and our rulers delivered him to be condemned to death, and have crucified him.
(21) But we trusted that it had been he which should have redeemed Israel: and beside all this, to day is the third day since these things were done.
See, their real confession in verse 21 ? But we TRUSTED that it had been HE which should have redeemed Israel....That was what they expected and when that expectation was not met according to their way of reasoning ( And it came to pass, that, while they communed together and reasoned,_) they decided to go back to their homes, more than 6 hours journey by foot.

Oh, but the Lord was merciful to them because He appeared unto them to encourage them. They must have meant something to God for Him to do that. Don't turn back...go forward. Come into Christ. Tarry Ye in Jerusalem until you be endued with power from on high. Did any of those who turned back from this simple message "tarry"?

Now let us go back to Hebrew Chapter six and look at those verses and see how in the series on the book of Hebrew, Brother Branham took every verse and laid it out so clearly to us that there is no more doubt on the basis of our walk with God.

In Hebrew chapter 10, it seems like Paul is saying something different from Chapter 6. Let us read those verses as compared to chapter six.
Heb 10:26-29
(26) For if we sin wilfully after that we have received the knowledge of the truth, there remaineth no more sacrifice for sins,
(27) But a certain fearful looking for of judgment and fiery indignation, which shall devour the adversaries.
(28) He that despised Moses' law died without mercy under two or three witnesses:
(29) Of how much sorer punishment, suppose ye, shall he be thought worthy, who hath trodden under foot the Son of God, and hath counted the blood of the covenant, wherewith he was sanctified, an unholy thing, and hath done despite unto the Spirit of grace?
Let's allow our prophet to teach us on these two chapters and on GRACE.

7-0908E HEBREWS.CHAPTER.SIX.2_ JEFFERSONVILLE.IN HEB SUNDAY_
« 303 † Grace is what God did for me, works is what I do for God. Now, they'll make a doctrine out of it, they think that works is what wins your merits. If it is, it isn't a free gift. Grace is what God did for you, "By grace you're saved." And works is what you do in appreciation of the grace that He showed to you. And if you love Him, you like to do the works of the Lord. Certainly, because, then, you--you love Him.
304 Accepting Meda Broy, as my wife, was what love done for her. What she does, in appreciation: she's a nice woman, stays home, takes care of the children, and lives a good true life. That's not because we're not married; we are married. But she does that in appreciations. If she run down town, every day, and took in every ten-cent store, and up-and-down the streets, and never washed the dishes, or anything else, we are still married. Absolutely. When I took my vow, that settles it. She's my wife. As long as there's life in us, she's my wife. That's her vow. But what appreciation she does for that: she stays home, and takes care of the children, and tries to be a real wife.

« 305 † I could run out and be gone all the time, just gadding about over the country, and let her half starve, or anything, let the children go without something to eat; we're still married. If she even divorces me, I'm still married, long as there's life in my body. I took that vow, "Till death we separate." That's right. We're still married. But, yet, I make a poor excuse of a husband. She'd make a poor excuse as a wife. So if we love one another, we stick together and pull the load, together.
306 That's the way God and His Church is, when you're born in the Kingdom of God. You'll have your ups and downs, true, but you're still a Christian, you're still born of the Spirit of God. God may have to take you out of the earth early.
... it's impossible for those which were once enlightened, and have tasted... the heavenly gift,...
... to ever fall away, to renew themselves again unto repentance;...

« 307 † Now, I know where you're thinking about, the church. Let me take you one just a little stronger, so the--the legalistic side can be really shut out. Let's go over to Hebrews, the 10th chapter, and look at this just for a little bit.
308 10th chapter, the 26th verse.
For if we sin wilfully after... we have received the knowledge of the truth, there remaineth no more sacrifice for sin,
But a certain fearful looking... of the judgment and fiery indignation, which shall devour the adversary.
He that despised Moses' law died without mercy under two or three witnesses:
Of how much more sorer punishment, though supposed... though worthy,... trod the... who has trod under foot the Son of God, and has counted the blood of the covenant, wherewith he was sanctified, an unholy thing, and... done despite to the works of grace?

« 309 † Now you say, "What about that, Brother Branham? How does that look?"
Now, just to read, I think, "The Scripture doesn't say that." That's not talking about a Christian. That's talking about a man that heard the Word and turned away from It. See?
For if we sin... (What is sin? Unbelief.)... if we disbelieve wilfully after the gospel has been preached to us, there remaineth no more sacrifice for sin,
310 What is sin? Unbelief. Read Saint John, the 4th chapter. Jesus said, "He that believeth not is condemned already." Sin is not smoking, drinking, committing adultery. You do that because you're an unbeliever. That's just the attributes. You do that because you're an unbeliever. Just to quit smoking, quit drinking, and so forth like that, that doesn't mean you're--you're a Christian. That's just the attributes of your conversion. But, you can, you can do either side, and still not be.

« 311 † Now notice.
... he that disbelieves wilfully after he...
312 Not--not, "After he received Christ in his heart." The Bible doesn't say that. Said, "He that..."
... if we sin wilfully, disbelieve wilfully, after... we have received the knowledge of the truth,...
Get it? Wasn't talking to a Christian, at all.
313 Some woman come to me, not long ago, and said, "Brother Branham, I'm a Christian, but I blasphemed the Holy Ghost."
314 I said, "It's impossible." A Christian could not blaspheme the Holy Ghost. You can't do it. A Christian spirit bears record with Christ's Spirit. See? And you'll call, everything of God, "God's."
315 But if you're carnal-minded, you'll make fun and laugh at the Holy Ghost; I don't care how much you go to church, you're still a sinner, and you're blaspheming the Holy Ghost. When they seen Jesus discerning their thoughts, they said He was a "fortune-teller."

« 316 † Jesus said, "You've... I'll forgive you for that, but when the Holy Ghost is come, you speak a word against It, it'll never be forgiven you."
Because, they said, "He has an unclean spirit," calling the Spirit of God, "an unclean thing."
A Christian can't do that. A Christian will always call the Spirit of God, "Righteousness." See? A Christian cannot blaspheme the Holy Ghost. It's the outsider that blaspheme.
317 That wasn't Christians standing there. It was religious people, it was orthodox Jews, doctors of divinity, and so forth, and they were making fun of Him and His works, calling the works of God, that, "It was an unclean spirit doing it."
318 And how many do you think today blasphemes the Holy Ghost, that's got D.D.D., Ph.D. on their name? How many great, stiffed Orthodox, Catholics, Protestants, walk the street and make fun of the operation of the Holy Ghost, just as polished scholars, and slick as a button? Right. But they make fun of the Holy Ghost, and therefore they blaspheme It.
But a born-again Christian cannot do that. He'll say, "That's my brother. That's the Spirit of the living God." That's right. A Christian cannot blaspheme the Holy Ghost.
319 It's the sinner that blasphemes the Holy Ghost; the unbeliever, the sinner, an "unbeliever." There's only two thing: either you are a believer, or an unbeliever.

Now we can say as the scripture say : Heb 10:38 Now the just shall live by faith: but if any man draw back, my soul shall have no pleasure in him.

Categories