A common man's perspective
Posted: 27 June 2011

Categories:

We were poor, four of us living in Tai Gin Road just next to the Whampoa River or canal more of a country side but 200 meters from the main road and common market in Balestier Road.

Unknowingly, I was located right where revolution ideas of a liberated China of freeing from the pony tail under the Manchurians, the Last Emperor and the beginning of the Republic of China were formulated. Yes, on Tai Gin Road is the bungalow house where Dr Sun Yat Sen lodged and had his revolutionary meetings. I was barely three years old, enjoying the little about my childhood, but still aware of my forays into that house with a staircase where Chinese lessons were conducted in the main hall.


It was only 4 years ago that I discovered that the present

Sun Yat Sen Memorial museum

is the very place I played with my younger brother and neighbours. Making a lot of childish uninhabited revelry only kids of that age knew. Making belief of demons and gouls haunting the place, of the dead from the many photos on the walls. Adults must think we kids enjoyed to look at those jaded photos, whereas each one appeared to us as a ghost, scary and dead, very dead.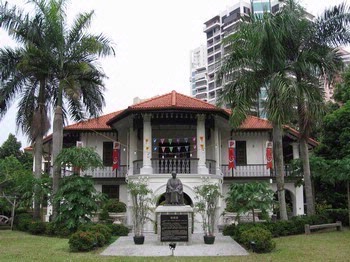 The grand Burmish (Myanmar) buddhist temple outshines the museum in grandiose but not in reality for issues of life and death were thoroughly explored and secrecy was paramount. We gave the place laughter but the adults were worried about us falling down the wooden steps of the steep staircase, that every step we made with our little legs lift up closer to the school hall. Do I remember any lessons there? None, Zilch, Zero. We 3 years old were taught how to write simple chinese characters such as sky, ground, mountains and righteousness. Simple chinese characters for simple little people all in calligraphic brushstrokes.


Ah, but we remember the morning tic toc, tic toc of the noodle hawker, the ringing bells of the honey lollipops of pure molasses and the thick sauted and fried Chye Tou Kwai with sweet black sauce and strong garlic, black as the wok that had met its use by date, thickened with layers of layers of pure lard mixed with sauce and spices.

An uncle was helping out in a glass blowing factory up on the hill, which must now be part of the PIE highway facing Toa Payoh. Together with a bread making factory, the place was the alternative visit from Sun Yat Sen building. It was here that I saw how glass bulbs and lanterns were made mixed with the baking of bread still prevalent today in Kim Keat Road. The smell of fired oven bread cannot be easily forgotten. There was a free supply of Chinese tea, the teapot resting snugly in thick clothing in a tea basket with rattan woven lid. We were treated to the elixir whenever one of the uncle wanted to take a drink. He poured a gracious cup or two extra for the kids.

On the flip side, the women folks always find time to quarrel over the communal toilet, the wash areas and the fight for the space to do their tailoring for yes, sewing machines were toys of the rich, not us. It was over one such piece of cloth that my mother was chased with a broom all over the hall because a neighbour suspected my kid brother of cutting her precious cloth with her ancient scissors. I stupidly admitted it was my brother who had handled the weapon. Thus assured of a witness, she chased my mother to vent her frustration with her husband as he tried to gain her favours in the night and with only a thin wooden wall between our two families, the courtship and pleading for a moment of respite was constantly ignored until patience gave way to venting of frustrations and anger.

On festive days, when all the women would gather in the commune to make dumplings or "tong yuns" coloured balls of fertility and moon cakes, the agressive woman was never invited and the more rejections of her husband's advances streamed into the early hours of the night. One day, they just quit the whole place and left never felt needed.

We swam in the whampoa canal along with the ducks and hen clucking with her brood, clucking on the side lines. I was thinking how come the chickens don't like to swim? The ducks and us were having a merry time splashing in the orangey muddy water with a bottom river bed as mushy to the feet as one could feel but we were having fun, so there was no fear slippoing deeper because it was not deep unless one ventured too far out, but we were constantly watched by caring adults who were total strangers. It was a community, selfless and caring for each other. We don't need to lock our doors when we venture out to the market. Nobody steals or pry into your bedroom for there were none. Even the toilets and kitchen were shared.

My mother did have a very good friend, very pleasant to look,slim, yellow as yellow could be in a Chinese with dovey black eyes that seemed so wise. She was a seamstress and was struggling to have her own sewing shop to make beautiful dresses and fashion. I thought when I grow up, I would be happy to find such a nice lady to be with not that at the age of 4, one could be thinking of such ideas??? Years later, she visited my mother in our new address and she was still single whereas I was ready for National Service. She rented a "shop" along one of the many lanes in Balestier to ply her trade and it was like visiting high society at that time.



Categories